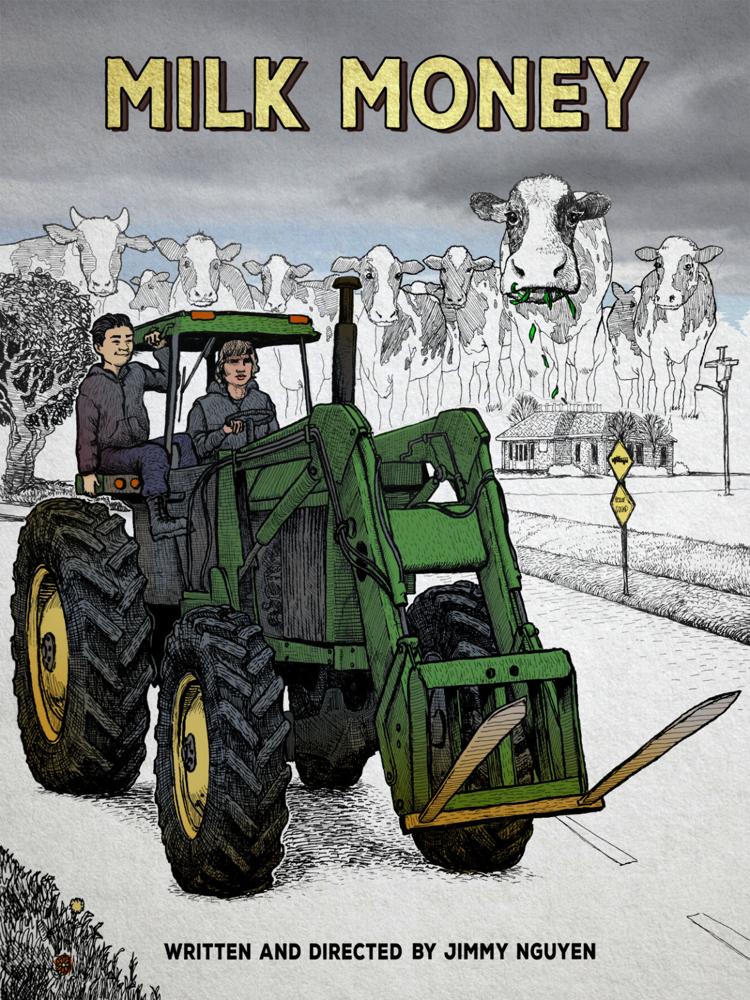 Jimmy Nguyen of Bealeton has made more than a dozen short movies, from documentary to thriller to comedy. Usually, he's the director, producer, photographer, sound mixer, editor and actor. His next film, "Milk Money," due out this summer, will be his first with a professional crew and Screen Actors Guild actors.
Milk Money will run at 15 minutes and be shot in Catlett. It takes place in current day Fauquier County where dairy farmers are now struggling with historically low milk prices and changing consumer tastes.
The log line reads: "Gordon, a directionless young man, helps out on his parents' struggling dairy farm. When Liam, his younger, adopted Chinese brother, comes home from college, sibling rivalry and desperation pushes Gordon to commit a brazen crime to save the family farm."   
Nguyen, 35, is a graduate of the College of William and Mary and a two-year veteran of the Peace Corps in Peru. By day, he's a video expert at the U. S. Department of Agriculture.
"I'm a Vietnamese-American and son of refugees from Vietnam after the war," he said.  "I appreciate their sacrifices and the opportunities I've been given growing up in the United States. That's why I want to go all in on my dream of becoming a great filmmaker."    
In every spare moment, he writes all his scripts. 
"I've been wanting to tell a story set in Fauquier County," Nguyen said. He and his wife, Lenah, a Fauquier County 4-H extension agent, live on 13 acres and have a beekeeping business. "I want to tell rural stories that most audiences don't get to see because well, let's face it, most people live in cities and don't think about what goes on out here."
"The first thing you notice around my area are the old barns and silos that dot the landscape," he said. "To me, they're beautiful landmarks that show the history of this area, where there was an abundance of family farms and dairies."  
He's also saddened to see so many family dairies going out of business at an alarming rate as milk prices have hit historic lows. 
"I wanted to tell a story of a dairy family struggling with these realities, but from the perspective of two brothers who have grown up and now come back to find their parents in economic and emotional distress," Nguyen said.  
For research, Nguyen has interviewed his neighbor, Jimmy Messick of Messick Farms in Bealeton, to learn about the dairy business. In scouting out locations for the movie shoot, he got to know Kraig Smith and Calvin Smith of Nalanda Farms in Catlett and Jerry Byler from Willow Farms, also in Catlett.
"I've learned a great deal about how a dairy operation works, and how dairies are trying to survive, from all of these farmers," he said.   
In addition to writing and pulling a crew together, Nguyen is fundraising through the Seed & Spark website (https://goo.gl/8xDGCX) with a goal of $6,500.
"The final cost to shoot, edit and enter it into film festivals will be closer to $10,000," he said. "I'm hoping to get some donations from local businesses to get close to that mark."
Those who donate will be invited to the premiere at his farm, where guests can mingle with cast and crew, Hollywood-style, in Fauquier County.   
After wrapping up shooting, Nguyen turns to post production. He'll meet with his director of photography at a studio in North Carolina. They'll do color-grading, to "determine the movie's tone and mood." Next, in order to save money, he'll edit the film himself.
"They say a director is not supposed to edit their own movie because they're not objective and may keep in unnecessary shots," he said. "However, I'll try to stay disciplined. In any case, you don't get to be long-winded when you're editing a short movie."
After it's completed, he'll enter Milk Money into local film festivals in Virginia, D.C., and Maryland as well as the bigger festivals-: Sundance, Palm Springs International Shortest, and Austin Film Festival. If all goes well, Nguyen hopes to do five different 15-minute shorts, all set in rural Virginia, and turn them into an anthology called, "Country Stories."  "Kind of like the Coen Brother's 'The Ballad of Buster Scruggs,'" Nguyen said. "There's plenty of good rural yarns to be told in good old Virginia. "  
Does everyone live happily ever after in Milk Money?
"The ending of the movie is left open-ended because most farmers know that good times only last so long before there's a downturn," Nguyen said.  "It's a constant roller coaster ride and I want to leave audiences in suspense as to what becomes of the two brothers." 
Side bar
Some Virginia dairy facts
Virginia is home to approximately 90,000 milk cows who live on 615 dairy farms.
Each dairy cow in Virginia provides an average of 2,226 gallons of milk per year.
That's an average of 7.3 gallons of milk per day.
In 2016, a dairy cow in Virginia cost about $1,760.
Virginia is 24thin milk production, 23rdin number of milk cows, 34thin milk output per cow and 14thin the number of licensed dairy operations
In 2016, the amount of milk produced in the state amounted to 1.72 billion pounds. That's equal to 200 million gallons.
Source: All facts are based on 2016 USDA and VDACS data.