Caryl Buck was born in 1951 in a suburb of St. Louis, Missouri, the second child of a McDonnell Douglas engineer and pipe organist. She was born in an era when the roles for men and women were clearly defined and showed little signs of changing. Caryl would challenge these traditional roles and, in the process, blaze a trail for every woman to come after her in the U.S. Navy.  
Career options for women were limited following high school graduation. Most attended secretarial school or went on to become teachers or nurses, only to marry and then focus on caring for their families. Buck had other sights in her scope. As a young woman, biology piqued her interest. As young as age 3, Buck would walk beside her father working in his garden, popping pea seeds into the ground. At age 5, he found her carefully planting small pebbles in a row like peas to grow boulders; "I had a fascination with rocks at the time," smiled Buck at the memory.  
While it took several decades for her to find herself in a biology-related field, she did arrive there, evidenced by the seven-acre livestock farm she maintains today. But before this second career was to happen, Buck was going to see the world in the Navy. 
Following high school graduation, Buck attended Colorado Women's College where she majored in German and continued Russian classes she had taken since sixth grade. "This was in the Sen. Joseph McCarthy era, when schools were encouraged to teach Russian so we could communicate if ever invaded," she said.   
When she graduated college, Buck considered what career she could pursue to support herself. "My father served in the reserve Army Engineer Corps in the Pacific during World War II. I always had an interest in the military and being on a Navy ship sounded pretty good, even though women were not permitted to be on the ships at the time," she said. "I decided to join the Navy for a few years to save money and buy myself a small farm and become a veterinarian," she continued. However, things would not unfold this way.  
She graduated college in May 1973 but didn't report to Officer Candidate School until fall. That summer Caryl worked as a governess in Colorado. With the help of a cowboy farrier named Tuck, Buck bought her first horse. Months later while deployed, Tuck bred her horse and she was granted "maternity leave" to visit her foal. 
Less than five years into her service. Buck was nominated for an Olmsted scholarship; she became the first woman to ever receive this honor. "The scholar program was founded by Gen. George Olmsted to educate American officers in the customs and cultures of foreign countries to avoid the ugly American reputation that resulted after WWII," she explained.  
"It was a tremendous honor to be given the award," said Buck.  She accepted the honor and with 3:1-year payback, Buck committed to another six years of Naval service. "With this much time in, I decided to make the Navy my career. I did my best throughout my service in the military, but when it was time to retire, my focus returned to biology and farming."  
Buck speaks with great humility about her military service, but her contributions to the role women play in the Navy today cannot go unrecognized. It is because of women like Caryl Buck that Title 10 USC Section 6015 prohibiting women from serving on ships was changed. Buck never realized her dream of going out to sea. By the time the title was changed, she was too senior to join the program. Women everywhere, active duty or civilian, owe her a debt of gratitude for the example she has set for women's independence.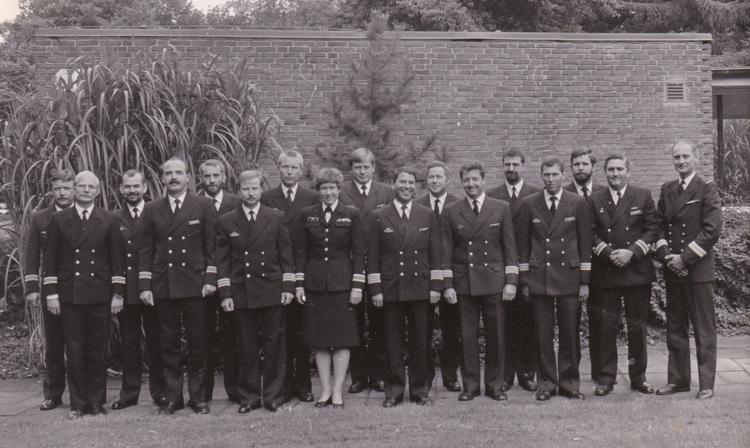 Other firsts include being the first of three women to attend Air Intelligence School in Denver, Colorado, the first woman in a non-admin, operational job on the Joint Strategic Target Planning Staff, the first woman in an aircraft squadron on the East Coast since WWII, and the first woman Special Weapons Loading Team Officer at a time when it was unheard of for a woman to oversee a nuclear weapon. 
Today Buck tends to her livestock in Warrenton and practices supplemental income farming. She raises ducks, geese, sheep and keeps both riding and mini horses as a hobby. 
Since her retirement from the Navy, Buck became the biologist that she sought so earnestly throughout her life. She has held such positions as naturalist for C. M. Crockett Park in Fauquier County, habitat specialist for the Virginia Department of Game and Inland Fisheries and ended as a staff naturalist and assistant director for a nonprofit with a mission of environmental research and education.  
Buck is a Hero's Bridge veteran and takes advantage of the services and programs the organization offers, including the Battle Buddy program. She is looking forward to opening her farm to fellow senior veterans who may benefit from the many therapeutic qualities that nature and farms have to offer.  
Hero's Bridge is dedicated to serving elderly veterans, age 65 and older. They serve, stand by and honor aging veterans through six distinct programs. These services are available wherever they call home, at no expense to them or their families. Do you know a veteran that needs help? Please call 540-341-5378 or visit www.herosbridge.org for more information.