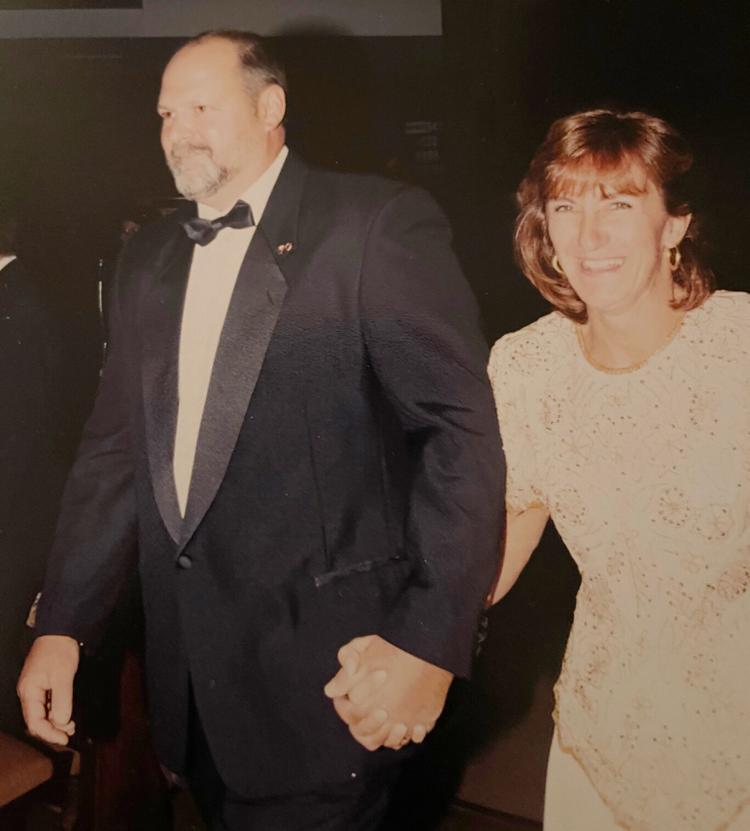 Hero's Bridge in Warrenton offers several different programs to help elderly veterans improve their quality of life. Co-founder Molly Brooks, RN-BC, CHPCA, said she "wants residents to know how important it is to support the folks who are there every day, helping these men and women stay healthy and engaged."  
Brooks said, "While our organization has built programming aimed at offering relief for caregivers, there is no replacement for the fulltime care our veterans receive from their loved ones -- the daughters, wives, sons, husbands and extended family members and friends who have accepted the selfless responsibility to care for our nation's veterans during their twilight years."  
To honor these caregivers, Aimée O'Grady, Hero's Bridge outreach coordinator, offers profiles here of two caregivers who provide daily care for an older veteran.  
Kathi and Harry Reed met at a church function 25 years ago. He had a daughter and she had three sons from prior marriages and once they married, they welcomed daughter Anna to their family. Harry Reed spent three years in the U.S. Army during the Vietnam War but never served in Vietnam. After the military, he owned his own home inspection business while his wife was a stay-at-home mother who drove a school bus.  
Harry Reed lost his business during the housing boom in the early 2000s, when buyers were waiving home inspections. He launched a hot sauce business, but it did not contribute to the couple's finances. To help make ends meet, Kathi Reed returned to work at a doctor's office where she had worked on and off for nearly a decade.  
Five years ago, at age 62, Harry Reed suffered a back injury that required surgery. His nurses observed that he had trouble remembering the steps needed for physical therapy and he was diagnosed with moderately progressing dementia. Now his motor skills are failing, as are his speech, memory and functionality.  
Kathi Reed shoulders the burden of her husband's care. "He doesn't qualify for a lot of benefits. He worked for the Fauquier County government for several years and is able to draw a small pension from that," she said. 
When COVID-19 struck the region, the adult day care center that Harry Reed attended reduced the number of days he could attend from four to two. Kathi Reed hired a caregiver for her husband while she went to work. "Harry can't be alone. He can't fix his own food or dress himself," she said. Worst of all, she added, he realizes what is happening to him, which causes him severe anxiety and frustration.   
Their daughter, a sophomore at James Madison University, is studying nursing. "Anna has taken on student loans that I wish I could help with and she works when she can in child care," said her mother. 
Kathi Reed's responsibilities are overwhelming. Her husband is only 67 but will soon lose the ability to communicate with her. "He struggles to put words together. He can envision the word, but just can't get it to his mouth," she said. He used to enjoy walking but can no longer go out alone. "He may not remember how to get home, but he thinks he does know the way," she said. 
Kathi Reed's employment covers all the household expenses for the couple. A year ago, she moved the couple from a 2-acre property in Remington to a condo in Bealeton to eliminate the burden of caring for the property. Although the move caused a great deal of anxiety for husband, in the long run it has been more manageable for her. 
Harry Reed has no insurance safeguards. His wife reaches out to corporations with assistance programs and is a member of the American Legion. She said, "I always call them when I have an extraordinary need." She also credited the members of Cornerstone Baptist Church in Warrenton for their support. 
Kathi Reed leans on a close circle of friends to help her cope. Over the past five years she has become more accustomed to asking for, and accepting, help, "You need to be able to reach out for help. It was one of the hardest things for me to begin doing," she said. 
For her own well-being, she likes to take long walks, read and visit with her family and friends. The couple's grown children are all nearby and she is able spend time with her grandchildren. "We are able to see everyone except for Harry's daughter, who is a nurse a few hours away. She is concerned about bringing COVID to us," she said.  
Kathi Reed cherishes her relationship with her daughter, in whom she confides. When times become overwhelming, she picks up the phone and calls her sister in New Jersey: "She is the best support I could ever have and always makes me laugh."  
Desirae Schulte and Phillip Schulte 
Further north in Fauquier are Desirae Schulte, her husband Mike and their daughter Sarah. They live in the Brookside subdivision and care for her 78-year-old father Phillip Schulte, who lives with them. Desirae Schulte's mother passed away in 2016. Her father is a Vietnam veteran who served in the U.S. Navy and spent time aboard the USS Bennington.  
In 2017, Phillip Schulte received a dementia diagnosis. Over the past few years, he has become incontinent and nonverbal. He benefited from socialization at the Fauquier Senior Center three to four days each week; unfortunately, that all changed in March with the onset of the pandemic. "He was still verbal prior to COVID," said his daughter. "But when he had to come home, I couldn't give him the attention he required and over the past few months he has become nonverbal."  
Desirae Schulte works full-time from home as a financial analyst. Her husband works full-time, and sometimes on weekends. Their daughter is in sixth grade, navigating an in-person/remote COVID-education. "I feel terrible admitting this, but sometimes the television is his caregiver. I just don't have the time to work, help my daughter and interact with him," confessed Schulte. 
For the holidays, Schulte only wishes that she could give more to her daughter. "My life revolves around my father ... We can't even go to the beach." Schulte learned that this past summer. "He can't acclimate to new spaces. He just needs to stay home," she said. When necessary, Schulte uses her father's pension to hire a caregiver for nearly $400 a day so she can go out of town for a night or hire someone for a few hours so she and her family can do something together. 
In November, Desirae Schulte was diagnosed with squamous skin cancer and has surgery scheduled for early next year. "I hired a respite provider during this time," she said of her father's care, which was foremost on her mind following her own diagnosis. 
Schulte does not know how long her father will have to live with dementia. These days, she remains focused on next summer. "We already have a two-week vacation scheduled and respite care reserved for my father." 
As for her responsibilities, she said has become numb to her circumstances. Without any siblings and no local extended family members, Phillip Schulte's care falls to his only daughter.  
Hero's Bridge steps in to help 
Hero's Bridge offers programs to help alleviate the stress and share the responsibility of an aging veteran's care. The Battle Buddies program, for instance, pairs veterans with a companion -- generally a former military person -- to spend time with. 
In 2018, both Harry Reed and Phillip Schulte were paired with a Battle Buddy, who spent time with them and brought them to activities they enjoyed. They also helped with questions regarding Veterans Affairs benefits and their Battle Buddy provided transportation to doctors' appointments.  
Brooks said, "Hero's Bridge provided companionship for her husband while Kathi [Reed] worked. "After meeting with Harry several times, our volunteers learned he was the recipient of the National Defense Service Medal Expert M16 and worked to acquire a new medal to replace the one that was lost.  
"Our staff and volunteers have remained in contact with the caregivers for Harry and Phillip regularly for more than two years; they know they can call us whenever they need something."  
COVID-19 has brought new challenges and concerns, including for marginalized and at-risk aging veterans. To meet these new needs, Hero's Bridge designed programming to deliver meals to veterans and porch care packages intended to reduce exposure to the virus.  
Brooks said, "Our new TeleHero program helps our most isolated veterans stay in touch with care providers and family members. Our programs are always free to our veterans' families."