During hot summer days, respite can be found beneath the mature tree limbs in George's Garden where the air still flows. The dappled sunlight falls through the leaves onto the lawn. The chorus of summer insects rings loudly from the fields. Breathe deeply the scent of the pastures. The rich aroma of our farmland.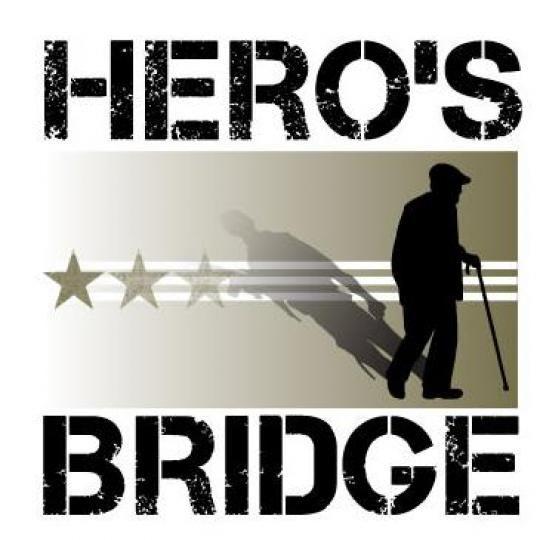 It is this calm that Hero's Bridge brings to its members the second Wednesday of each month at Mountain Vista Farm in Amissville. Farm Therapy is just one of the programs that the nascent nonprofit coordinates monthly. Just four years old, Hero's Bridge serves nearly 150 veterans age 65 and older who have served in World War II, the Korean War and/or the Vietnam War. 
"Many of these veterans did not receive a hero's welcome when they returned home from war and we aim to provide comfort for them during their senior years," said Hero's Bridge co-founder, Molly Brooks. "Many older veterans have a recurrence of PTSD or anxiety as they age. We believe if the effects of wartime trauma can recur after all these years, so can healing," she added.
The farm therapy program was brought to the attention of Janelle Wilks-Davenport, Battle Buddy coordinator, by Hero's Bridge volunteer Will King. Britta Johnston, owner of Mountain Vista Farm and international dressage trainer, was looking for a way to serve veterans. 
"My husband was in the Air Force for 20 years, sharing our farm is our way of giving back," said Johnston who first contacted King. 
Wilks-Davenport knows the benefits of being immersed in nature. "I moved to Old Rag Mountain not long ago and am surrounded by nature. I am well aware of the benefits of being in nature. It seemed like a natural opportunity for our members who suffer from PTSD and anxiety to help alleviate their symptoms."
Mountain Vista Farm is a special place with 25 acres of incredible views. There are anywhere from 14 to 20 horses at the farm at any given time, often imported from overseas. "At Mountain Vista, we have access to nature and livestock. Veterans can interact with the dogs and groom the horses. It is motivation for veterans to get out of their house and go somewhere," said Johnston. On these hot days, guests often gather in George's Garden, named for George Sullivan, a Vietnam veteran and close friend of the Johnston's. "George was one of the first advocates for treatment of PTSD and a dear friend. He visited with us one day and suffered a massive heart attack the next and sadly passed away," shared Johnston.  
With the new Hero's Bridge van, transportation can be arranged for those veterans who have difficulty getting around. "We just need one week's notice to arrange transportation," said Wilks-Davenport.  
Feedback from this new program has been overwhelmingly positive. 
"Our veterans enjoy being on the farm. At a recent visit, one member brought apples for all the horses. We have some members who worked on farms and barns in their younger days, and really like being back on one. Our veterans are able to relax and heal on the farm. I have seen visible changes in our veterans when they are spending time at the farm," said Wilks-Davenport who accompanies the veterans on each farm therapy visit. 
Johnston has seen the benefits as well, "one man who suffers from dementia began to share stories of his daughter riding horses when she was younger."
For those who are wheelchair bound, Hero's Bridge provides information to make sure veterans are comfortable with the landscape and are sure they will be able to get around. "We look forward to welcoming our veterans each month," said Wilks-Davenport.  
"Air-conditioned rooms are available for anyone who needs one," added Johnston.  
If you are a veteran age 65 or older, the caregiver or family member of one and would like to attend the next Hero's Bridge Farm Therapy visit on August 14 at 10 a.m., please contact battlebuddies@herosbridge.org or call 540-341-5378. Transportation should be reserved at least one week in advance. For more information on Hero's Bridge, to make a donation or sign up to volunteer, visit www.herosbridge.org.
Aimee O'Grady is a freelance writer and outreach coordinator for Hero's Bridge. Reach her at outreach@herosbridge.org