Vehicles lined up starting at 7 a.m. Monday for a special drive-thru distribution of Thanksgiving turkeys at the Fauquier Community Food Bank in Warrenton. Altogether, the food bank planned to hand out about 650 turkeys by Thursday. And thanks to a community-wide food drive, the food bank didn't need to spend any money out of its regular budget for the special meals.
Sharon Ames, the food bank's executive director, and manager Cindi Carter were on hand with other food bank employees and volunteers to greet each client with broad smiles. They know many of their clients well, sharing laughs and a cheery "Happy Thanksgiving!" with each of them. The food bank would be open Tuesday morning, they emphasized to each client, in case they needed anything else like an extra box of stuffing or another can of green beans.
The food bank meets the basic food needs of hundreds of low-income individuals and families each month. For special food drives like Thanksgiving, the food bank relies on extra help from the community, said Ames. The community, she said, came through this year. Fire stations, police departments and schools competed to collect the most donations. "I did not buy one turkey this year," Ames smiled. "Every turkey was donated."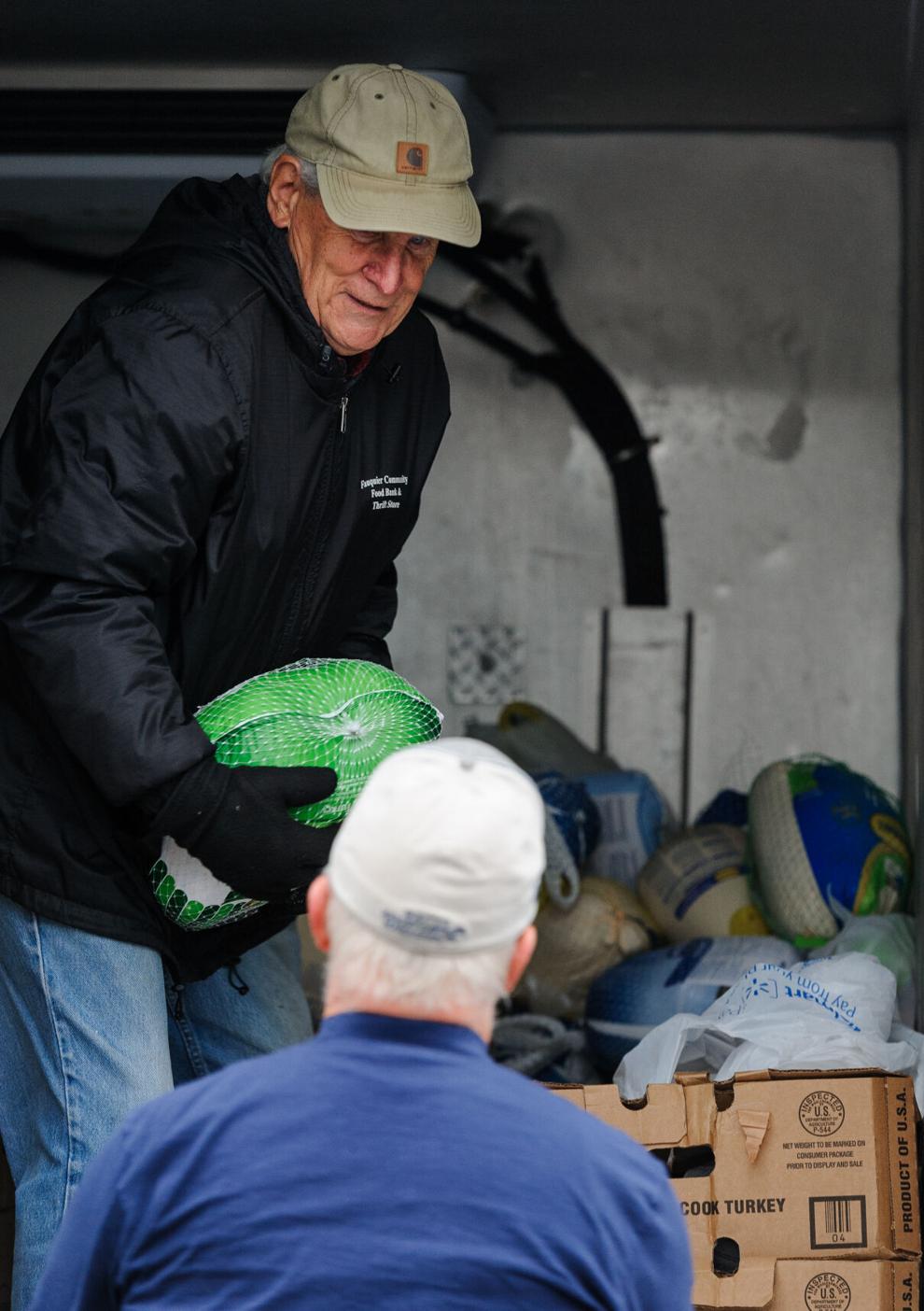 Many of the Thanksgiving-specific donations came through the annual "Stuff the Bus" food drive. Originally confined to the schools, Karen Embrey of the school division's transportation department had the idea last year to park school buses in various places around the county. This year, community members filled the buses with nearly 16,000 pounds of food.
And, Ames emphasized, some of the Thanksgiving meals were donated one at a time. "There were people who came with one turkey, and it was so nice. They would say, 'Sharon, I just went to Walmart and bought you a turkey.' I like that part too."
The expanded "Stuff the Bus" program also meant that the list of requested donations could be adjusted to help sustain the food bank's services through the winter, said Ames, since donations usually drop sharply after the holidays.
Thanks to the community food drive, the food bank received much-needed items like boxed meals — Hamburger Helper is a favorite — and bottled water, essential to people without access to clean drinking water. Those donations to meet ongoing needs "were so instrumental," said Ames.
The Fauquier Community Food Bank serves Fauquier County residents based on income; households do not need to receive public assistance to be eligible for food bank services. More information is available at 540-359-6053 or at fauquierfoodbank.org.
Fauquier FISH food pantry
Fauquier FISH, a Warrenton-based nonprofit, also distributed food ahead of the holiday, board member Erin Smith said Tuesday:
"Fauquier FISH's Weekend Power Pack Program sent home 360 bags containing 5 days' worth of food to Fauquier County Public School children.
"For the 8th consecutive year, Sheehy Ford of Warrenton provided 125 Thanksgiving dinners to FISH's Weekend Power Pack families.
"In partnership with The Way Bible Church and members of the community, 15 crockpot Thanksgiving meals were provided to families living in motels."