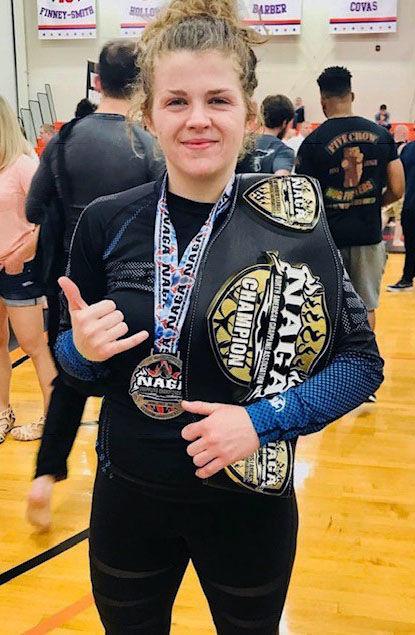 It began for Warrenton native Carsyn Nash with a simple goal of getting fit. She was looking for a sport that wouldn't bore her, and quickly eliminated running, swimming or cycling. Instead, the Virginia Commonwealth University student decided to take jiu-jitsu classes at a Richmond gym. Soon there would be a mixed martial arts confining cage in her future, not to mention opponents with the ability to inflict serious pain. 
Nash loved that gym at very first sight -- and fight. 
Three years later, after earning a VCU degree in Spanish this past December, she packed up her diploma, a couple of suitcases and her husky Zeus, and drove across the country to Albuquerque, New Mexico, to pursue a career in the rough and tumble world of MMA. 
Her mom, Jodi Nash, an attorney and long-time Warrenton resident, has been totally supportive of her daughter's MMA pursuit, if more than a touch wary. She accompanied her to Albuquerque, helped her find a place to live, furnished the one-bedroom apartment in a day, then headed back to Virginia. She left her daughter to fend for herself in one of the nation's elite MMA training centers, the Jackson Wink MMA Academy.  
The facility has produced a number of top MMA competitors, including Holly Holm, best known for a kick-in-the-head knockout of then-undefeated bantamweight champion Ronda Rousey in 2015. That evening, a crowd of 56,000 stunned fans in Melbourne, Australia, witnessed one of the greatest upsets in combat sports history.  
They all went home. Rousey spent the night in the hospital. 
Carsyn Nash, now 26, knows that sort of dangerous outcome is always possible any time she steps into the cage. But when she does, she totally transforms from her usual persona into a stone-cold fearsome force. Normally, she's a soft-spoken, gentle soul with a gorgeous singing voice. She spent several years working for the World Pediatric Project, translating for impoverished families seeking medical treatment for their children in the U.S. 
"When I graduated from college, I thought about doing [MMA] just as a hobby," Nash said. "But the more I stayed away from the cage, the more I really missed it. I honestly feel so liberated and free in there. So, I decided to go for it. And I really wanted to give it 100 percent. I had a lot of options, but this just called out to me." 
After her initial fling with jiu-jitsu, Nash incorporated the other necessary skills — boxing and grappling — into her Richmond training sessions.  
She compiled a 4-1 MMA amateur record; it gave her the confidence to apply, and to be accepted, to train with 10 other women at the elite Albuquerque gym. She hopes to turn pro by 2020 in a sport where top fighters can earn six-figure checks, and sometimes more. 
Her parents are her biggest fans. Her dad, Gary Nash, who lives in the Williamsburg area, has seen several of her fights. 
Carsyn Nash attended Fauquier High through her junior year before finishing at Wellsprings Academy in North Carolina and excelled in every team sport she attempted. 
Her mom said she witnessed a significant transformation in her daughter as she got more serious about MMA. 
"I saw a remarkably transitioning person," Jodi Nash said. "It sort of pressed the reset button for her. She got focused in her life. It centered her. The focus she found at the gym, the discipline, have now become life skills. And as I watched this happen, I became more enthusiastic about what she was doing." 
Jodi Nash also admitted, "I did become conflicted. It's brutal to watch. But once she starts fighting, I'm a raving mad woman. I'm her biggest, rowdiest fan. Sometimes, I don't even remember what I'm yelling." 
It really doesn't matter, Nash said, because she can't really hear much when she's in a match, anyway. 
"I'm very aggressive in that cage," she said. "Not outside… but when I'm in it, I guess the animal instincts take over. It's like playing chess while you're taking a beating. You have to fight intelligently. I feel very proud when I get out of the cage. You don't give up; you just keep going." 
She's already had some painful injuries. In her only amateur loss in a New York arena, she suffered a nasty black eye. She's had a broken nose, a dislocated collarbone, torn knee ligaments and once had to take three months off from training to heal properly. 
"Sometimes you have to be comfortable being uncomfortable," she said, adding that she also knows this passion for the fight, for the cage, won't last forever. 
 "I'm giving myself four years out here training with the best to see if I can make a comfortable living," Nash said. "I'll regroup if I have to, but I'll always keep training. It's changed my life completely. I just love what I'm doing." 
She also knows her mother, herself a successful collegiate gymnast and athlete, probably does not. 
"My mom is very emotional," Nash said. "I don't think she likes this. But she supports me in everything I've ever done. When I lost that fight, it was super hard on her because I took a lot of damage. But she's an amazing mom. I hate doing it to her, but I want to make her 'The Queen of MMA.'"