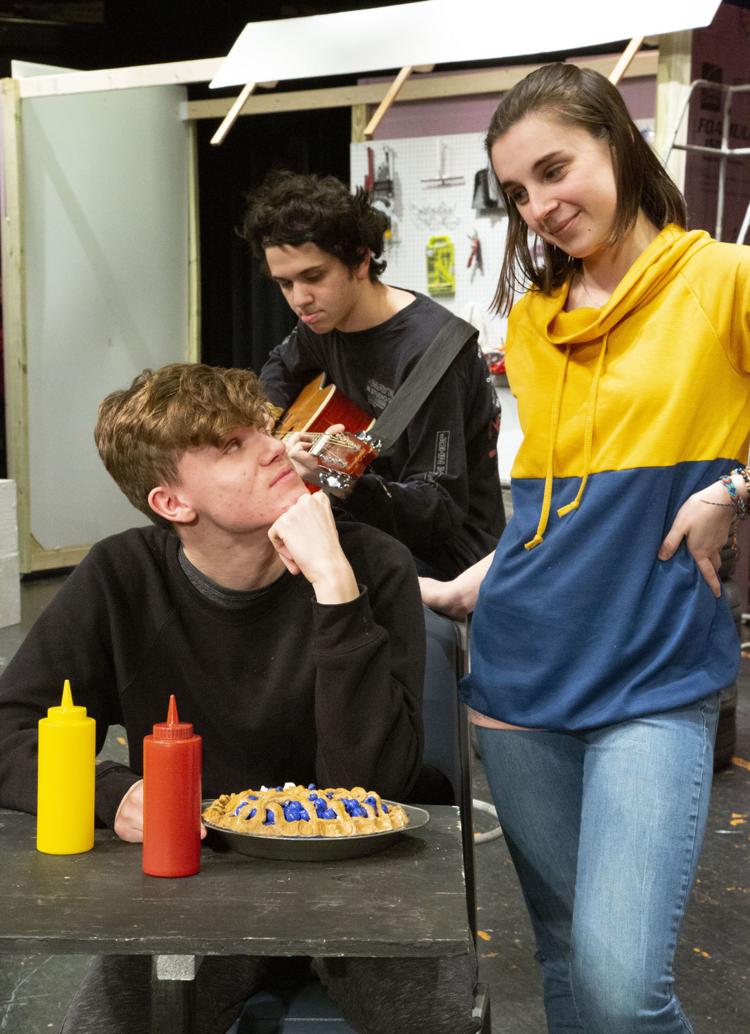 A week before Fauquier High School's production of "Pump Boys and the Dinettes" was set to open, the gas station set was unfinished, and the diner motif still needed lots of work. The actors were trying to remember all the words to the songs, and several scenes had yet to be blocked.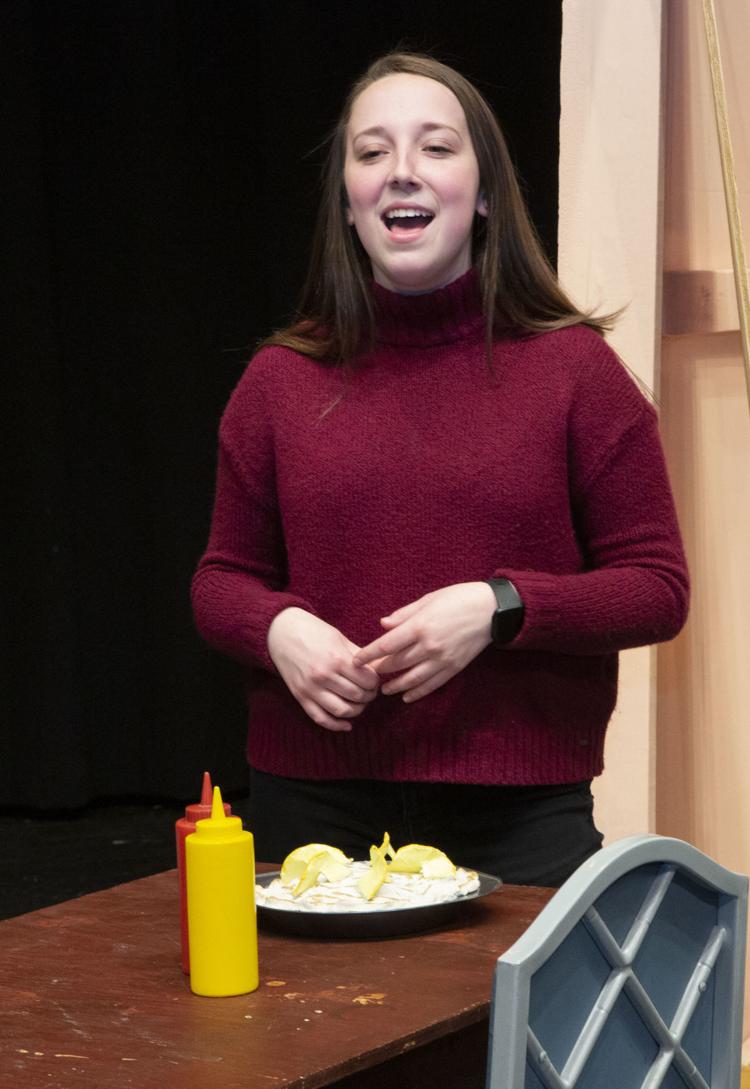 School cancellations and early closings had put the cast under a time crunch, but there was no panic, only calm resolve.
This small group of theater veterans are methodically moving ahead, making adjustments during rehearsals, supporting one another and enjoying the process. By the time the curtain rises Friday, Feb. 22, they'll be ready.
Director and theater teacher Emmett Lee Bales was upbeat as he positioned lights during a recent practice.
"Usually, we don't get to lights until the week we open. We'll be fine. Seventy-five percent of the set is done," he said, noting his theater tech class designed the set and works on construction during class time. 
Home Depot was a solid sponsor of the production, providing set materials and even sending a crew to help with the set construction. 
"We've got a good jump on it," said Bales. He has been teaching theater for 24 years, six of them at Fauquier High, so no doubt he has seen tighter deadlines.
"Pump Boys and the Dinettes" is not common fare for a high school production. It has an ensemble cast of only six and is almost entirely made up of songs that move the story along. Theatrical publisher Samuel French describes the show this way: "The 'Pump Boys' sell high octane on Highway 57 in Grand Ole Opry country and the 'Dinettes,' Prudie and Rhetta Cupp, run the Double Cupp diner next door. Together they fashion an evening of country western songs … they perform on guitars, piano, bass and, yes, kitchen utensils."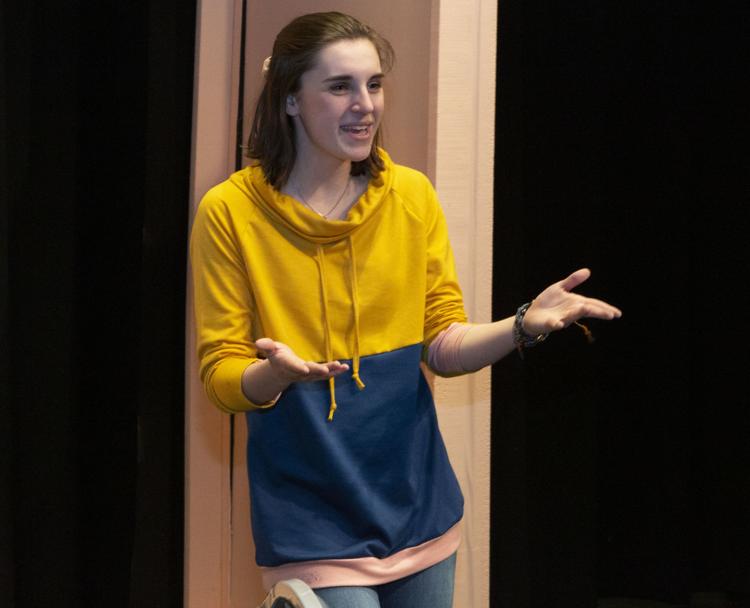 Johanna Huber, who plays Prudie, said she has never been a country music fan but had to change her tune for this show. 
She has enjoyed the challenge. In duets with Alyssa Gilmore, who plays Rhetta, the two sound like a couple of Southern angels. Both are seniors with considerable experience in musicals, and both are looking to continue performing in college. 
Johanna said "Pump Boys and the Dinettes" is her favorite theater experience so far. "It's a small cast, and all of my friends are in it with me," she said.
Alyssa performed in Fauquier Community Theatre's "Into the Woods" over the summer and performed at Shenandoah University in "Mama Mia." She said she'll probably attend West Virginia University in the fall.
Fenris Forrester plays Eddie, one of the Pump Boys. A senior, he is headed for Virginia Commonwealth University's cinema program next year. He said he'd like to develop his writing and directing skills.
Bryce Moore is Jim in the play. Not only is he asked to sing and act, he also plays the guitar in the show. He describes the music colorfully as "chicken-pickin' blues" and said he has learned a lot from the experience. "I think my ear has gotten better."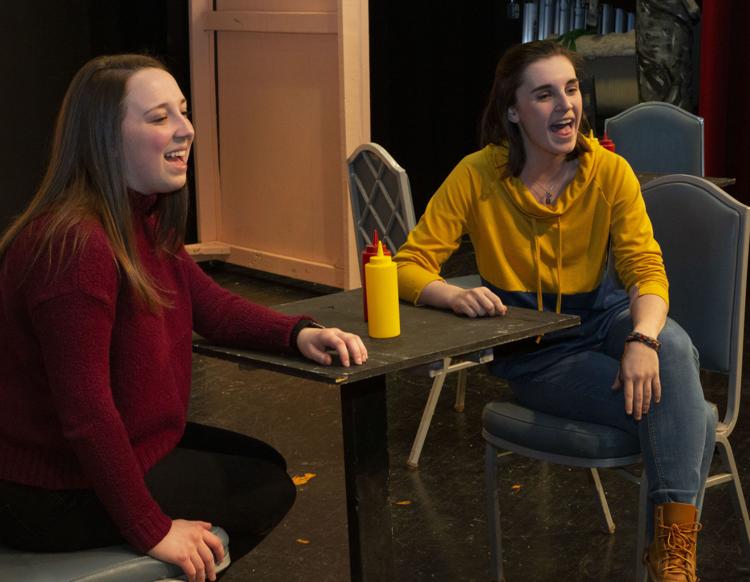 Rounding out the cast are Rodman Shook, a junior who plays Jackson, and Mickey Goltry, a freshman who portrays LM. 
Mickey said he and Rodman are in the choir, so he enjoys the music-heavy show. "I really like the four-part harmonies," he said.
Rodman was in "Seven Brides for Seven Brothers" last year and got to play Charlie Brown in a recent version of "Snoopy." 
"I'm actually more of a bass," he said, "but I can still hit the higher notes" in Pump Boys.
Behind the scenes, junior Macy Major is the assistant director for the show. She has been responsible for blocking several of the musical numbers and is learning to run rehearsals. 
Abby Mesick, a sophomore, is the stage manager who says she likes to "be in control."
"I like to know where everyone is supposed to be, where everything is," she said. 
She said she's tried acting to get a different perspective and was in a one-act in the fall. She's decided, though, "it's not my jam."
When the students were asked what else they'd like to share with the community, they were unanimous, "Come see our show!"
Bales said the school allows those in the school play to take the whole school day before opening to run the show again and again, all day. 
"That's when most of the final polishing gets done," he said. "When the school day is over, we all go home and get a good night's rest instead of staying here till 10 o'clock. It's great. We'll be ready for opening night," he said.
"Pump Boys and the Dinettes" opens Friday, Feb. 22 at 7 p.m. in the high school's Addison E. Lightfoot Auditorium and plays Saturday, Monday and Tuesday at the same time. 
There will be a matinee at 3 p.m. on Sunday. Tickets are $10 for adults and $5 for students and may be purchased at the door.
Reach Robin Earl at rearl@fauquier.com