Make room for ogre-sized family fun as "Shrek, the Musical" comes to life for six performances beginning June 7. the show is presented by Fauquier Community Theatre's Youth Theatre program at Vint Hill.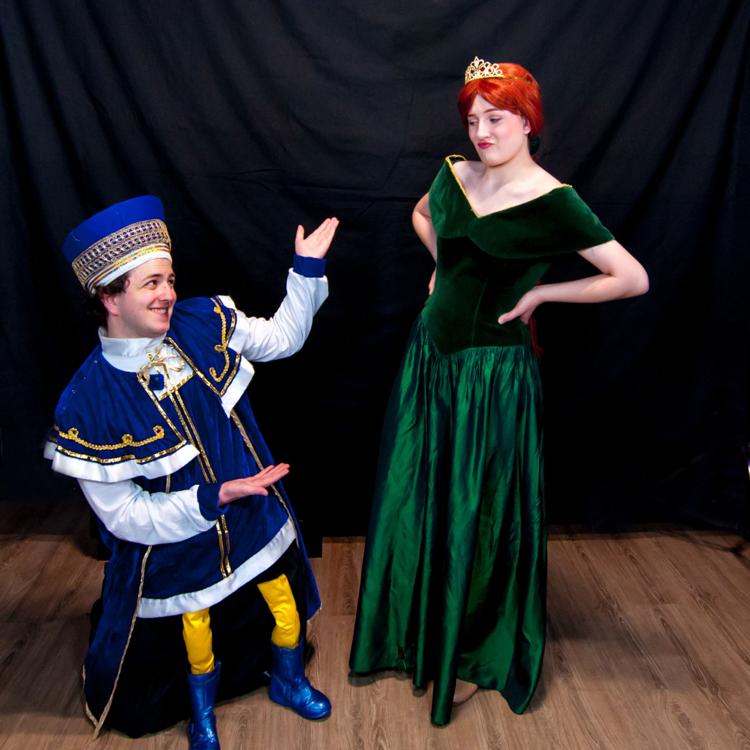 Full of whimsical, fun, colorful and unexpected characters and imbued with a powerful musical score, "Shrek" teaches audiences that we are all different and special – and that we all have worth. This wonderful poignant message is woven throughout the plot and within every character portrayal.
The hilarious story is based around a green ogre named Shrek and his sidekick, Donkey, whose swamp has been invaded by fairytale creatures who have been sent by Lord Farquaad, the leader of Duloc. Shrek is sent on a quest by Farquaad to retrieve Princess Fiona, who is trapped in a high tower protected by a fire-breathing dragon. Farquaad wants to marry Fiona so that he can become king.
All actors and actresses in this FCT Youth Theatre production are under 18. FCT presents on Youth Theatre production each summer.
Shrek, played by Nicholas Villacorte, bursts onto the stage with a song in his heart. His powerful presence and great wit match the character's size. He sings, moves and acts with heart and soul.
Shrek's sidekick, Donkey, played by Carter Williams, is a bright-eyed, motor-mouthed, sassy animal.
Julia Downes gives fiesty Fiona an edge and smashes the role beautifully. She sings so faultlessly that it would be easy to forget she is so young. Watching this delightful character's story unfold in front of you can't help but put a smile on your face.
Jack Zatkowsky's knees get quite a workout playing the diminutive Lord Farquaad. Portraying a pompous, power-hungry little villain, Jack's Lord Farquaad is side-splittingly funny and he has the vocal chops to be in the spotlight for songs such as "What's Up Duloc" and "Ballad of Farquaad."
Director Matt Moore and producer Mary Beth Balint have worked tirelessly and have assembled a perfect cast and an amazing production team to bring this story to life. The big ensemble numbers "Story of My Life," "Freak Flag" and "I'm a Believer" are enhanced by Abby Chaumont's delightful choreography.
Katy Benko-Miner, musical director, brings a wealth of stage experience and musical talent that she shares with the whole cast.
In this full-length multifaceted tale, nothing is as it seems. Layers of defense mechanisms are broken down and twisted inside-out till the characters conquer their fears once and for all. The importance of loving yourself and others for your unique gifts is the lesson the characters all learn together.
Come for the music, stay for the dragon.
The six performances of the musical will be held at the Vint Hill Theater on the Green, 4225 Aiken Drive, Warrenton, from June 7 to 16. Friday and Saturday performances are at 7:30 p.m., and Sunday matinees are at 2 p.m.
Tickets are $13 for students and seniors and $15 for adults. More information and reserved seating for is available online at www.FCTstage.org or by calling 540-349-8760. Early reservations are recommended for best seating preferences.