Summer is an extra fun time for the whole family to create art. Just walk into Earth, Glaze & Fire on Warrenton's Main Street and be inspired.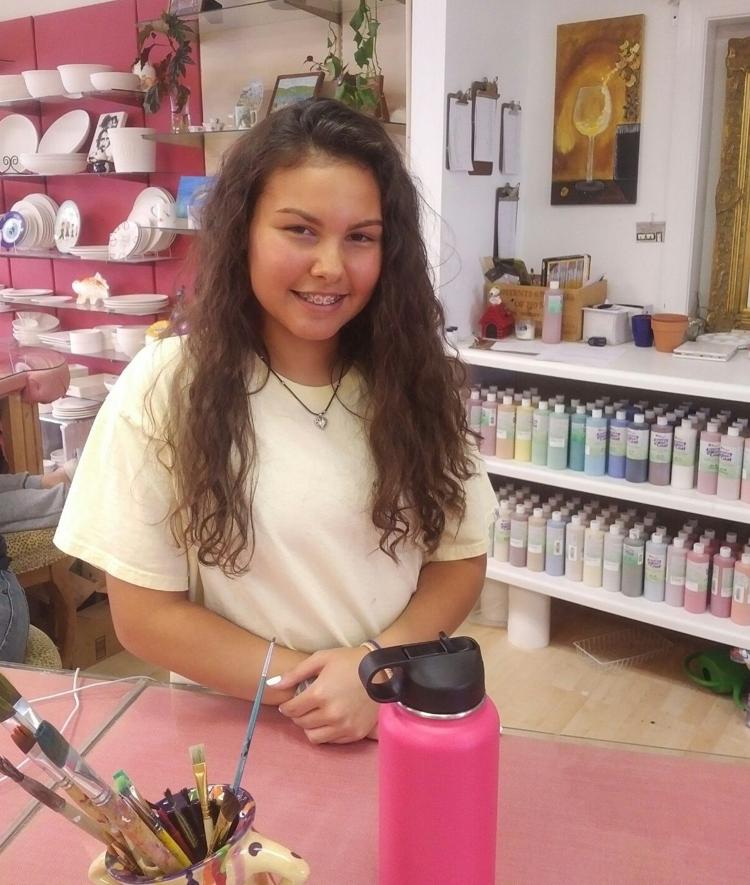 Choose from hundreds of items and paint colors. Located at 80 Main St., the studio offers: pottery painting, canvas painting, hand-build clay, pottery wheel and clay canvas painting for all ages and skill levels. Earth, Glaze & Fire is a place where people enjoy creating one-of-a-kind art.   
Owners Danielle and Nadia Schwarz are the mother-daughter team who own Earth, Glaze & Fire. They are talented artists and have created thousands of pottery pieces from their extensive inventory of molds.  
"Art has always been a part of our family's life. My grandmother was a fine-china painter and my grandfather was an oil painter," said Nadia Schwarz.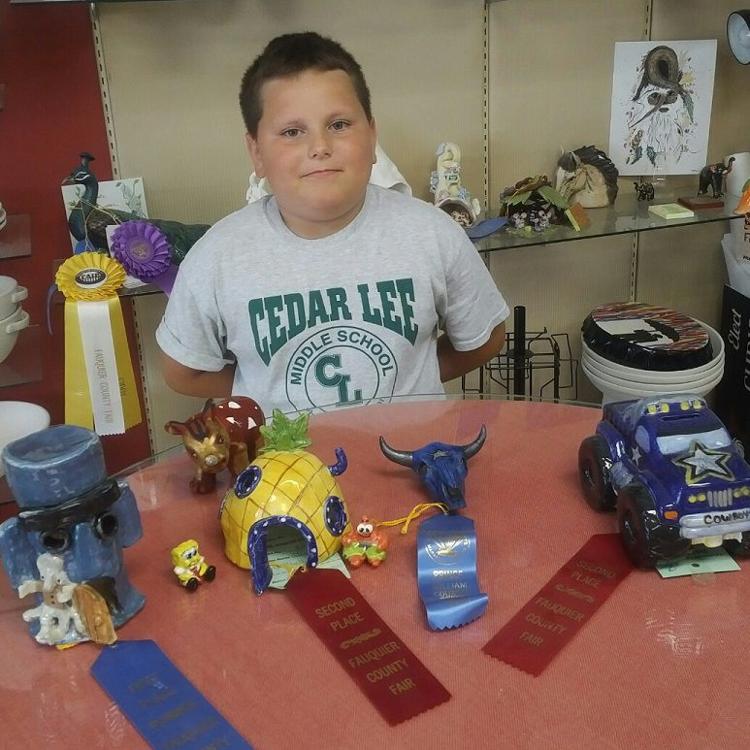 Colton Schwarz, Danielle Schwarz's 9-year old grandson, has been awarded blue ribbons for his art at the Fauquier County Fair. 
Danielle Schwarz emphasized, "We want our customers at Earth, Glaze & Fire to feel at home here, keeping friends and families together one brush stroke at a time. There is no rush here, people can stay all day, talk and socialize. We even allow customers to bring food in from local restaurants in town." 
Nadia Schwarz added, "We create an environment for people to paint and enjoy their creative side." Prices are $5 and up and include the item to paint, studio time, paint and kiln firing.  
"The experience makes for a special day," agreed Terry Shupp and her grandchildren, 12-year-old Elizabeth Worley and Jackson Worley, age 8, who were there during the recent heat wave. 
Customers at Earth, Glaze & Fire enjoy creating their own art. One or both of the owners are usually on-site to offer guidance and assistance to customers. Sometimes, however, customers leave it all up to the owners. Danielle and Nadia Schwarz produce customized items including full sets of dinnerware to reflect the customers' preferences of design and color. 
There are many classes offered, including beginning pottery wheel and canvas and china painting. Groups are welcome and parties are popular for birthdays and special occasions. There is something for all ages. Recently a "wine and design" option was added for creating art while enjoying a glass of wine at no additional price. 
Summer camps take place Tuesdays through Fridays from 10 a.m. to 2 p.m. through the end of August. Pre-registration is required. The schedule is: Tuesday - clay hand building; Wednesday – glazed ceramics; Thursdays – acrylic ceramics, and Fridays – canvas painting.  
Nine-year old Phillipe Spence pointed out, "You can relax and paint here."  
High school student Carly McMurphy has created art at Earth, Glaze & Fire for the last eight years and is now a volunteer. "Everything is customized and personalized here," she said. 
After-school and home school curriculum classes will be offered. Nadia Schwarz explained, "We love the children who take classes, especially those who have special needs and feel at home here. Art is very therapeutic and a great way for everyone to express themselves. We offer group art lessons as well as private lessons for all ages."
Earth, Glaze & Fire is open seven days a week. Regular studio hours are 11 a.m. to 4 p.m. on Sundays and Mondays, and 10 a.m. to 6 p.m. Tuesdays through Saturdays. For more information, visit www.earthglazefire.com or call 540-878-5701. The best way to experience Earth, Glaze & Fire is to stop by the studio and enjoy walking into a myriad of opportunities to learn, design, and create art that is certain to bring years of enjoyment.
"The Arts Lady" monthly column highlights local arts. Smyers teaches in the Arts Management Program at George Mason University. She is an actress, arts consultant, and co-executive director of Fauquier Community Theatre. Reach her at 800-754-4507 or debra@artsconsultinginternational.com.