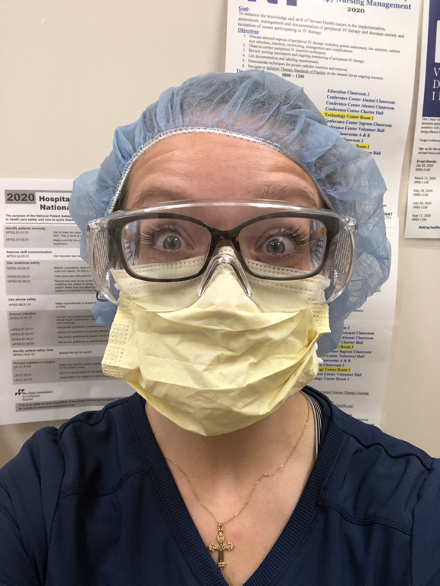 "When it's right, you will just know." I had heard that phrase too many times. The giddy person in front of me was telling me about how they met "the one." I refrained from eye rolling, with difficulty. After a few attempts at love, I was not so sure that it would be this slap-in-the-face, obvious revelation that everyone talked about.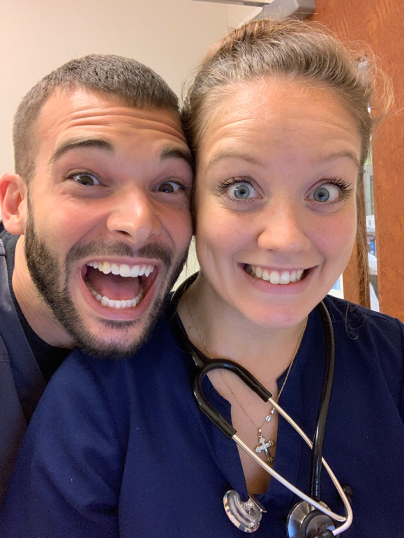 Chris P. was tall, handsome, a U.S. Marine veteran, polite and well …. taken. I had just started a new job in the Haymarket Emergency Department [Novant Health UVA Haymarket Medical Center] and he was in nursing school and working as a technician.  
Fast forward three months. Chris was now single. I was still single. The romance began one day while working side by side. Chris admired my quick nursing skills (we cared for a burn patient together, providing quick interventions and pain relief), nervous inability to stop talking, love for my family and dedication to my church.  
I gave him the time of day because he talked about sitting down and having dinner with his parents at 5:30 p.m., no phones allowed, and helping them with car and yard work.  
In May of 2019, we finally expressed our feelings to one another. Pizza and a long walk turned into meeting my family (30-plus people) on the second date.  
That's when I heard those words once again, "When it's right, you will just know." And boy did I ever! Not only did I know, but so did my family.  
After that it was bliss. Chris and I worked side by side, he graduated nursing school, we attended church, ran the young adult group at St. Patrick Orthodox Church in Fauquier County, hiked and continued to grow as a couple. By December 2019 we were engaged, and the wedding plans progressed.  
Then COVID 19 happened. Being in the health care field, we were on the front lines. To say that at first it wasn't scary would be a lie. I moved out of my house because my father has cancer and I moved in with my sister. Together Chris and I stayed up-to-date on PPE requirements, transmission and signs/symptoms of this ever-changing virus. Our work days included a lot of wiping down, changing clothes at work and cracked hands due to the excessive handwashing. There was a lot of uncertainty.  
But with strength not our own, and becoming more educated about the virus, we were able to stay strong and safe. We continued with wedding plans. Chris was very confident that "all would work out." I, on the other hand, could not help but wonder if we would even be having a wedding.  
As weeks and months passed, Chris and I grew, confidently knowing that the only thing that mattered was saying "I will." In the state of Virginia, the governor had issued phases, each one indicating safety measures in place during the pandemic. Although we had already cut down our guest list, we needed to get to Phase 3 to be able proceed with our plans.  
At last it came, Phase 3. Our families had stayed healthy, safe, and we thanked God for his blessings. I was able to move back home with my sisters and parents to finalize wedding plans. Chris's brother and sister flew in from California and his 93-year-old grandfather was brought down from Pennsylvania.  
The week of the wedding. Chris and I were very busy but loving every minute. There was so much to do. We, with help from our families, built a pavilion on our 104-acre-farm in Fauquier County to have the wedding rehearsal. What a crazy time.  
Tuesday: My cousin called to say that his wife (one of my bridesmaids) was not feeling well and got tested; she was positive.  
Wednesday: Three of my sisters were positive, along with many other cousins. With the support of our families, we knew what we had to do.  
Chris and I sent our love and an email out to all of our guests: "We will be canceling the celebration but continue to ask for your prayers, we are still saying our vows and getting married." 
On Saturday, July 11, Chris and I said our vows, exchanged rings and I become Leah P. My sister Mary (who tested negative), along with a few other family members surprised us with a live first dance song. Our families circled the yard in their cars as we danced in the middle on a white sheet showered with petals.  
I was never a pretty crier, but being surrounded by the ones you love (even from their cars) and looking up to the one you have given your heart to, tears were the best way that I could express my sheer joy.  
It was not how we planned, but plans are meant to be changed, and our story will be a memory we can share and fondly look back on.  
The author is a registered nurse who grew up in Midland. She and her husband will be settling in Fauquier in the coming months.