Warrenton residents Jo and Judith Tartt have donated their collection of more than 160 photographs illustrating the relationship between the horse and photography to the National Sporting Library and Museum in Middleburg.
A number of the photographs were part of an exhibition at the museum in 2017, and Jo Tartt said he and his wife's experience in working with the museum's staff, particularly curator Claudia Pfeiffer, was a significant factor in their decision to donate the collection to the NSLM.
 "Claudia was so interested in it and such a pleasure to work with," Jo Tartt said. "I think it's a great museum and the perfect repository for these photographs. It's about the horse and the camera, and it's the relationship between photographer and horses, especially as photography developed."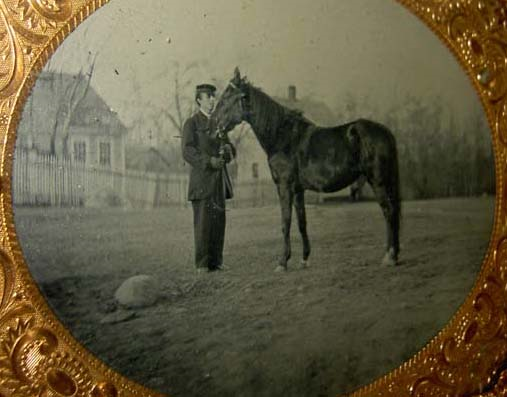 Pfeiffer, the NSLM's George L. Ohrstrom, Jr. Curator of Art, said she and the staff are still "noodling on all the ways we can use this wonderful gift." About a dozen photographs will be incorporated into an upcoming exhibition called "NSLMology," focusing on the science of sporting art that opens on April 12.
"It's a wonderful, concise view of the photographic medium and the way horses have been used over the years," she added. "We'll use it in a lot of ways—research, fodder for other exhibitions and we'll also digitalize it. It's a fabulous collection." 
The photos were assembled over a 20-year period by Jo Tartt, an art dealer specializing in fine 19th and 20th century photographs since 1981, and his wife, Judith, one of the nation's pre-eminent art restorers. They viewed thousands of images and chose only those that met a high standard of historical significance, good photographic aesthetics and good condition.
All types of photographic prints are represented: the daguerreotype, ambrotype and tintype; salt print, albumen print, cyanotype and gelatin silver print; personal vernacular albums, historical images, artistic images and news photographs. 
There are 19th and 20th century photographs from the U.S., Russia, China, Japan, Germany, England, France and the Middle East. 
A number of famous horses are in the collection, including Man-O-War, Secretariat, Citation, Native Dancer, Whirlaway, Bold Ruler, Seattle Slew and Sea Biscuit's famous win against War Admiral.  
Many images were taken by famous photographers, including  the Frenchman Roger Fenton, Edward Muybridge, Edward Curtis, Leni Riefenstahl, Alfred Stieglitz, Edward Steichen. 
And a number of luminaries are also the subject of some of the photos, including Elizabeth Taylor, Clark Gable, Bing Crosby, the Crown Prince of Japan, The King of England. President Ronald Reagan, Arthur Godfrey, first lady Jackie Kennedy and the funeral parades for Presidents Franklin D. Roosevelt and John F. Kennedy.
Muybridge's breakthrough work on a horse in motion is included in the collection.
Muybridge was hired by the entrepreneur and horse breeder Leland Stanford to settle a bet about whether or not all four hooves of a galloping horse were simultaneously off the ground at any time during the sequence of the gait. 
The question was a photographic paradox. In the 1870s, the medium remained an inherently slow and precise process. But Muybridge devised an industrious and pioneering setup of 12 large-format, glass-plate cameras spaced apart. He outfitted the cameras with innovative and reliable shutters of his own design, tripwires and plates coated with an extremely light-sensitive emulsion. The combination made a 1/500th-second exposure possible.
The technological breakthrough led to a cascade of other camera and film innovations within the following decades, for both consumer-grade and professional equipment and film.
Tartt said the museum will be displaying the photographs in a variety of ways, including new exhibitions in the future.
"We're thrilled to do it," he said. 
Reach Len Shapiro at badgerlen@aol.com