As promised, last week I said I would look into the reasons why deaths were presented on the public Virginia Department of Health website on the day they were recorded as COVID-19 deaths and not when they actually occurred.
As you may recall, this is largely because there are folks assigned in our central office in Richmond who are combing through death certificate data and these deaths are added to the death totals on the day they are discovered, not when the death occurred. From an epidemiology point of view, this is not useful and can be misleading.
Here is the chart that we have been following that reflects this: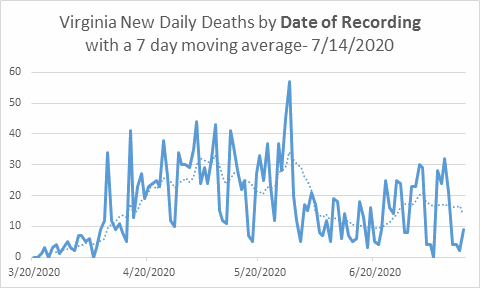 As you can see, this shows a downward trend followed by a recent uptick; that is due to old deaths being added to the daily numbers. Again, not very helpful.
It is much more useful to follow the data when deaths actually occur. This way we can see the disease burden in a population over time. The data (which are somewhat hidden on the VDH website) in this graph depicts this and actually looks much better for Virginia: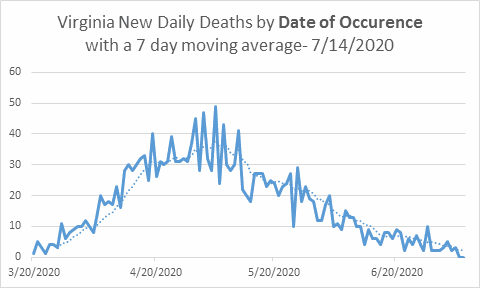 This all said, the daily death number that you all see on the VDH data site will still reflect these older deaths. So a word of caution- when one subtracts the previous day's number from today's number, the result is not necessarily the number of newly occurred deaths. Please keep that in mind.
In addition, analysis of death certificates will continue moving forward and there will likely be additional aged-deaths added to the database retrospectively. I'll try and hunt that down and add that to the spreadsheet I use to follow all of this and present it to the group.
Here is the latest hospitalization graph: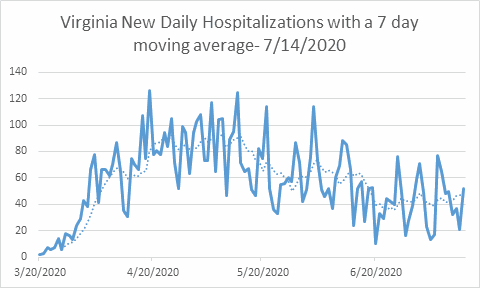 And the latest numbers for the health district: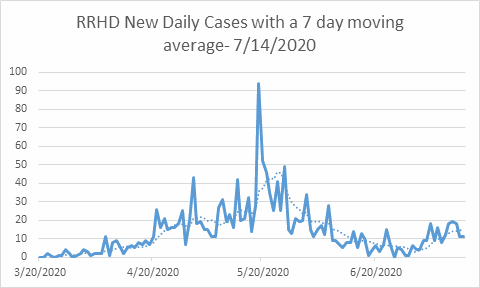 As I noted last week, there appeared to be an upward trend of cases in the health district and that has been borne out over this past week. There is definitely more COVID-19 in our community that there was a few weeks ago.
There are a number of reasons for this, but I would like to focus on the things we can control, namely: washing your hands, maintaining recommended physical distancing, and masking up when you can't. We are in this for the long haul. Thanks for all you are doing.
-Wade Kartchner, MD, MPH
Health Director, Rappahannock-Rapidan Health District